Let's meet Genshin Impact's Keqing, Yuheng of the Liyue Qixing, and a very useful five-star electro-sword wielder. She carves her own path with raw power and ability rather than allowing the gods to determine her fate. And, as you can imagine from such a fierce and driven lady, she's a strong fighter, too. So let's take a look at the best Genshin Keqing build, including her top artifacts, weapons, and more.
If you're on the lookout for more content like this, make sure you check out our Genshin Impact codes list for some freebies, Genshin Impact banners page for who's coming up next, and Genshin Impact tier list to make sure you have the best team possible.
Now, let's see how to build Genshin Impact's Keqing into a fearsome fighter.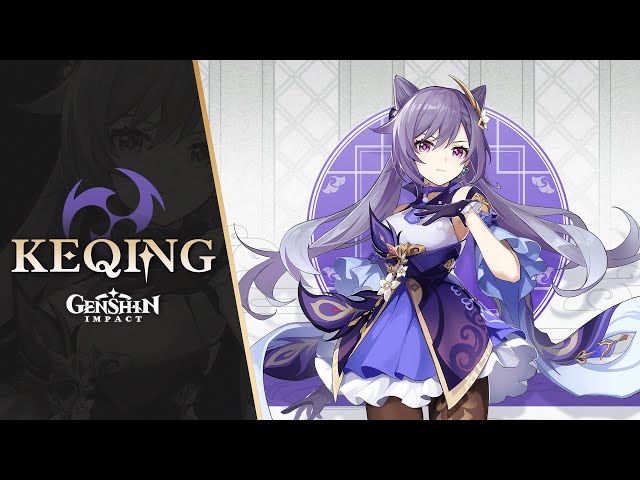 What's the best Genshin Keqing build?
Keqing best fits a DPS role due to her on-field attacks – she's a five-star electro sword wielder with useful mechanics that make traversing the overworld a breeze. There are two ways to build Keqing – you can focus on electro or physical. Physical Keqing is generally easier to build and makes for a great unit to blast through early-game content, especially with how well she works with the craftable Prototype Rancour. However, physical Keqing doesn't scale well in later game content, which is where she rises from the ashes as a powerful electro DPS – especially when teamed up with Genshin Impact's Kazuha.
Electro Keqing scales better than physical Keqing, with constellations that buff her playstyle well, a kit that supports the use of a bunch of strong, off-field DPS characters alongside her, a strong electro application that allows for plenty of elemental interactions, and the ability to teleport around the place like an electric ninja.
On the downside, electro Keqing is very stamina reliant and relies on having well-invested sub-DPS units to back her up. But those are a small price to pay for such a powerful normal banner character. Don't feel too down if you lose your 50/50 to her – she's bound to come in handy at some point!
What's the best Genshin Keqing weapon?
The best sword for electro Keqing is Mistsplitter Reforged, given that she doesn't have a signature weapon. It offers high crit damage and base attack, along with a passive that compliments her kit very well. However, the Jade Cutter pulls into the lead if you've got her in a team that doesn't use her elemental burst.
When it comes to four-star options, Lion's Roar is a great choice for Keqing in electro-focused or electro-charged teams. Alternatively, the Black Sword is a great, well-rounded choice that allows for more team flexibility.
Weapon
Effect
How to obtain

Mistsplitter Reforged (five-star)

Bonus effect: Crit damage
Skill: Gain a 12% elemental damage bonus for all elements and receive the might of the Mistsplitter's Emblem. At stack levels 1/2/3, Mistsplitter's Emblem provides 8/16/28% elemental damage bonus for the wielder's elemental type. Obtain one stack of Mistplitters Emblem when a normal attack deals elemental damage, when casting an elemental burst, and when their energy is less than 100%. Each stack's duration calculates independently
Weapon banner (alongside Ayaka)

Primordial Jade Cutter (five-star)

Bonus effect: Crit rate
Skill: Increases HP by 20%. Also provides an attack bonus based on 1.2% of the Keqing's max HP
Weapon banner

The Black Sword (four-star)

Bonus effect: Crit rate
Skill: Increases the damage dealt by normal and charged attacks by 20%. Regenerates 60% of attack as HP when normal and charged attacks are critical hits, this can occur once every five seconds
Battle Pass reward

Lion's Roar (four-star)

Bonus effect: Attack
Skill: Increases damage against enemies affected by pyro or electro by 20%

All banners
What are the best Genshin Keqing artifacts?
For aggravate teams, we recommend equipping Keqing with four pieces of Thundering Fury. Alternatively, for non-aggravate teams, we recommend combining two pieces of Thundering Fury with two pieces of an attack set like Gladiator's Finale or Shimenawa's Reminiscence.
Artifact set
Effect
How to obtain

Thundering Fury

Two equipped: Electro damage bonus
Four equipped: Increases damage caused by overloaded, electro-charged, superconduct, and hyperbloom by 40%, and the damage bonus conferred by aggravate increases by 20%. When quicken or the aforementioned elemental reactions trigger, elemental skill cooldown decreases by one second. Can only occur once every 0.8 seconds
Midsummer Courtyard domain

Gladiator's Finale

Two equipped: Increases attack
Four equipped: Increases Keqing's normal attack damage by 35%

Weekly and world bosses, artifact strongbox

Shimenawa's Reminiscence

Two equipped: Increases attack
Four equipped: When casting an elemental skill, if Keqing has 15 or more energy, she loses 15 energy and normal/charged/plunging attack damage increases by 50% for ten seconds. This effect will not trigger again during that duration
Momiji-Dyed Court domain
Artifact stat recommendations
As with a lot of older Genshin units, Keqing doesn't scale off anything in particular. Therefore she can be easy to build! We recommend stacking up as much attack as possible, with electro-damage bonus and crit stats thrown in for good measure.
Main stats:
Goblet: Electro damage bonus, attack
Sands: Attack
Circlet: Attack
Sub stats:
Attack
Crit rate/crit damage (try to maintain a 1:2 ratio)
Elemental mastery
What are Genshin Keqing's skills?
Active skills:
Skill
Effect
Normal attack: Yunlai Swordsmanship
Normal: Perform up to five strikes
Charged: Performs two powerful strikes
Plunging: Deals AoE damage on impact

Elemental skill: Stellar Restoration
Press: Deals electro AoE in a small area by tossing a Lightning Stiletto
Hold: Adjust the direction of the attack
Elemental burst: Starward Sword

Deals AoE electro damage, then further electro strikes
Passive skills:
| | |
| --- | --- |
| Skill | Effect |
| Thundering Penance (unlocked at ascension one) | Within five seconds of using Stellar Restoration a second time, normal and charged attacks do electro damage |
| Aristocratic Dignity (unlocked at ascension four) | Starward Sword increases Keqing's critical rate and energy recharge by 15% |
| Land's Overseer (unlocked automatically) | Liyue expeditions take 25% less time |
What are Genshin Impact Keqing's constellations?
To level up Keqing's constellations you must receive her as a duplicate when making a wish, this can be tedious, but the bonuses she receives are worth it.
| | |
| --- | --- |
| Constellation | Effect |
| C1: Thundering Might | Recasting Stellar Restoration while a Lightning Stiletto is active causes Keqing to deal 50% of her attack as AoE electro damage |
| C2: Keen Extraction | When Keqing's normal and charged attacks hit enemies affected by electro, they have a 50% chance of producing an Elemental Particle |
| C3: Forseen Reformation | Increases the level of Starward Sword by three |
| C4: Attunement | For ten seconds after Keqing triggers an electro-elemental reaction, her attack increases by 25% |
| C5: Beckoning Stars | Increase the level of Stellar Restoration by three |
| C6: Tenacious Star | When initiating a normal attack, a charged attack, elemental skill or elemental burst, Keqing gains a 6% electro-damage boost for eight seconds |
What are Genshin Impact Keqing's ascension materials?
Ascending Keqing greatly increases her crit damage, so we recommend gathering the ascension materials and leveling her up as soon as possible. You can find Whopperflowers all over Teyvat for the nectar drops. To get lightning prisms, you need to head to Mondstadt and take on the electro Hypostasis. As for cor lapis, you can find it as a Liyue-specific mining outcrop.
| | | |
| --- | --- | --- |
| Required level | Mora | Materials |
| 20 | 20,000 | One vajrada amethyst sliver, three cor papis, three whopperflower nectar |
| 40 | 40,000 | Three vajrada amethyst fragments, two lightning prism, ten cor lapis, 15 whopperflower nectar |
| 50 | 60,000 | Six vajrada amethyst fragments, four lightning prism, 20 cor lapis, 12 shimmering nectar |
| 60 | 80,000 | Three vajrada amethyst chunks, eight lightning prism, 30 cor lapis, 18 shimmering nectar |
| 70 | 100,000 | Six vajrada amethyst chunks, 12 lightning prism, 45 cor lapis, 12 energy nectar |
| 80 | 120,000 | Six vajrada amethyst gemstones, 20 lightning prism, 60 cor lapis, 24 energy nectar |
What are Genshin Impact Keqing's talent materials?
Keqing requires the prosperity family of talent books, which you can get from the Domain of Mastery: Altar of Flames at Jueyun Karst. For her later levels, she needs rings of Boreas, which drop from the Dominator of Wolves weekly boss in Mondstadt.
| | | |
| --- | --- | --- |
| Talent level | Mora | Materials |
| Two | 12,500 | Six whopperflower nectar, three teachings of prosperity, |
| Three | 17,500 | Three shimmering nectar, two guides to prosperity |
| Four | 25,000 | Four shimmering nectar, four guides to prosperity |
| Five | 30,000 | Six shimmering nectar, six guides to prosperity |
| Six | 37,500 | Nine shimmering nectar, nine guides to prosperity |
| Seven | 120,000 | Four energy nectar, four philosophies of prosperity, one ring of Boreas |
| Eight | 260,000 | Six energy nectar, six philosophies of prosperity, one ring of Boreas |
| Nine | 450,000 | Nine energy nectar, 12 philosophies prosperity, two rings of Boreas |
| Ten | 700,000 | 12 energy nectar, 16 philosophies of prosperity, two rings of Boreas, one crown of insight |
What are the best Genshin Impact Keqing team comps?
Keqing can provide some electro application but excels as a DPS when supported by other characters. Nonetheless, she can slot into quite a few different types of teams.
There you have it, everything you need to know for a great Genshin Impact Keqing build. If you're looking for more games like this, take a look at our best gacha games list. We suggest a new Hoyoverse game, too – here's the Honkai Star Rail tier list and what we know about any Honkai Star Rail codes.