Genshin Impact's Xiangling is known for being the head chef at the Wanmin Restaurant in Liyue. She loves to cook spicy foods and regularly experiments with unique ingredients in order to make surprising new dishes. So let's see what tasty combos we can whip up with our Genshin Xiangling build guide, featuring her skills, constellations, best weapons and artifacts, and more.
If you're new to the huge open world of Teyvat, we recommend checking out our Genshin Impact codes list for some extra freebies to help get you started. Once you've used up all your primogems wishing for a few more characters, head on over to our Genshin Impact tier list to find out where each of them ranks! We've also got guides for other characters like Genshin Impact's Freminet, Genshin Impact's Itto, and Genshin Impact's Diona.
Let's take a look at how to cook up the best Genshin Impact Xiangling build.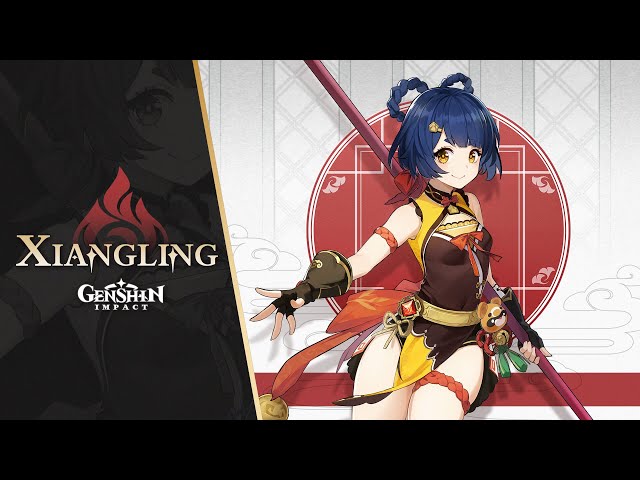 What's the best Genshin Impact Xiangling build?
Xiangling is a super important sub-DPS staple in many of the top-ranking 'National' team comps. Available as a free character for anyone who braves floor three of the Spiral Abyss, she's a versatile little bean capable of applying pyro and dealing damage from off-field. Her AoE burst is incredibly powerful and perfect for elemental reaction combos, and she scales very well with high investment and external buffs, such as Genshin Impact Bennett's burst.
On the other hand, her energy cost is pretty high and she does rely on Bennett in most of her team comps to manage energy and buffing. Guoba also has a limited range and can be very inconsistent with targeting, which can negatively impact your energy and damage without someone like Genshin Impact's Kazuha to suck him up into enemies. Her high pyro application can also complicate elemental aura setups.
However, every account should realistically have a built Xiangling in their ranks, as she can be invaluable in many scenarios and isn't too expensive to build.
What are the best Genshin Impact Xiangling weapons?
Xiangling's best weapon relies heavily on what team comps you're hoping to put her in. Generally, The Catch is a great all-round choice and is fully free to play. Alternatively, if you somehow have a spare copy of Staff of Homa or Engulfing Lightning, those are brilliant options. Or, if you're planning on using Xiangling in a team without Bennett, you should go with Favonius Lance or Kitain Cross Spear to help her battery herself.
Outside of that, if you want a full statistical breakdown of how other polearms size up against each other, check out the Keqingmains Xiangling weapons section.
Weapon
Effect
How to obtain

The Catch

Bonus stat: energy recharge
Skill: increases elemental burst damage by 16% and elemental burst crit rate by 6%
Buy from Kujirai Momiji of the Fishing Association

Staff of Homa

Bonus stat: crit damage
Skill: HP increased by 20%. Additionally, provides an attack bonus based on 0.8% of Xiangling's max HP. When her HP is less than 50%, this attack bonus increases by an additional 1% of max HP
Weapon event gacha
Engulfing Lightning
Bonus stat: energy recharge
Skill: attack increased by 28% of Xiangling's energy recharge over the base 100%. You can gain a maximum bonus of 80% attack. Gain 30% energy recharge for 12 seconds after using an elemental burst
Weapon event gacha

Favonius Lance

Bonus stat: energy recharge
Skill: crit hits have a 60% chance to generate a small number of elemental particles, which will regenerate six energy for Xiangling. Can only occur once every 12 seconds

Gacha

Kitain Cross Spear

Bonus stat: elemental mastery
Skill: increases elemental skill damage by 6%. After an elemental skill hits an opponent, Xiangling loses three energy but regenerates three energy every two seconds for the next six seconds. This effect can occur once every ten seconds. Can trigger even when Xiangling is not on the field
Forging
What are the best Genshin Impact Xiangling artifacts?
Generally, a four-piece set of Emblem of Severed Fate is the best option for Xiangling regardless of her team comp. Four pieces of Gilded Dreams is also a good option, especially in overvape teams where she's paired up with Genshin Impact Sucrose.
Crimson Witch of Flames is also a good option, though it falls behind in some team comps and can be very expensive and inefficient to farm.
Artifact set
Effect
How to obtain
Emblem of Severed Fate
Two equipped: energy recharge +20%
Four equipped: increases elemental burst damage by 25% of energy recharge. You can obtain a maximum of 75% bonus damage in this way
Momiji-Dyed Court domain on Yashiori Island in Inazuma

Gilded Dreams

Two equipped: elemental mastery +80
Four equipped: within eight seconds of triggering an elemental reaction, Xiangling obtains buffs based on the elemental type of the other party members. Increases attack by 14% for each party member with the same elemental type as Xiangling, and increases elemental mastery by 50 for every party member with a different elemental type. Each of the aforementioned buffs count up to three characters. This effect can trigger once every eight seconds, even when Xiangling isn't on the field
Spire of Solitary Enlightenment domain in Avidya Forest, Sumeru

Crimson Witch of Flames

Two equipped: pyro damage +15%
Four equipped:

increases overloaded and burning damage by 40%, and vaporize and melt damage by 15%. Using an elemental skill increases two-piece set effects by 50% for ten seconds. Maximum three stacks

Hidden Palace of Zhou Formula domain on Bashui Plain, Wuwang Hill, Liyue
Artifact stat recommendations
Main stats:
Sands: energy recharge/elemental mastery/attack%.

Elemental mastery is only recommended for reverse vape and overload or overvape teams that use Xiangling as a trigger. Generally, you should use energy recharge with non-energy recharge weapons, and elemental mastery or attack% with energy recharge weapons

Goblet: pyro damage bonus
Circlet: crit rate/crit damage (try to maintain a 1:2 ratio overall)
Sub-stats:
Energy recharge to requirement (this varies, but 200% gives you flexibility and comfort)
Crit rate/crit damage
Elemental mastery
Attack%
What are Genshin Impact Xiangling's abilities?
Active skills:
Skill
Effect
Normal attack: Dough-Fu
Normal: Performs up to five spear strikes
Charged: Consumes stamina to lunge forward and deal damage along the way
Plunging: Deals AoE damage on impact with the ground

Elemental skill: Guoba Attack

Summons Guoba the bear, who breathes fire at enemies, dealing AoE pyro damage

Elemental burst: Pyronado

Summons a Pyronado to deal AoE pyro damage that moves around the character for a set time
Passive skills:
| | |
| --- | --- |
| Skill | Effect |
| Crossfire | Increases Guoba's attack range by 20% |
| Beware, It's Super Hot! | When Guoba's attack's effects end, he leaves a chili pepper on the spot where he disappeared. Picking up a chili pepper increases attack by 10% for ten seconds |
| Chef de Cuisine | When pulling off a perfect cook on an attack-increasing dish, Xiangling has a 12% chance to double the product |
What are Genshin Impact Xiangling's constellations?
Here's every bonus you'll receive when leveling up Xiangling's constellations!
| | |
| --- | --- |
| Constellation | Effect |
| C1: Crispy Outside, Tender Inside | Enemies hit by Guoba's AoE will have their pyro resistance reduced by 15% for six seconds |
| C2: Oil Meets Fire | The final hit in a normal attack sequence will apply the implode status for two seconds. When the duration ends, an explosion will deal 75% of Xiangling's attack as AoE pyro damage |
| C3: Deepfry | Increases the level of Pyronado by three |
| C4: Slowbake | Increases the duration of Pyronado by 40% |
| C5: Guoba Mad | Increases the level of Guoba Attack by three |
| C6: Condensed Pyronado | All party members receive a 15% pyro damage boost for the duration of Pyronado |
What are Genshin Impact Xiangling's ascension materials?
Each time you ascend Xiangling, she receives an increase to her elemental mastery.
| | | |
| --- | --- | --- |
| Required level | Mora | Materials |
| 20 | 20k | One agnidus agate sliver, three Jueyun chili, three slime condensate |
| 40 | 40k | Three agnidus agate fragment, two everflame seed, ten Jueyun chili, 15 slime condensate |
| 50 | 60k | Six agnidus agate fragment, four everflame seed, 20 Jueyun chili, 12 slime secretions |
| 60 | 80k | Three agnidus agate chunk, eight everflame seed, 30 Jueyun chili, 18 slime secretions |
| 70 | 100k | Six agnidus agate chunk, 12 everflame seed, 45 Jueyun chili, 12 slime concentrate |
| 80 | 120k | Six agnidus agate gemstone, 20 everflame seed, 60 Jueyun chili, 24 slime concentrate |
What are Genshin Impact Xiangling's talent materials?
Make sure you keep hold of your slime concentrate, because here are all the talent level-up materials you need to ascend one of Xiangling's talents to level ten.
| | | |
| --- | --- | --- |
| Talent level | Mora | Materials |
| Two | 12.5k | Six slime condensate, three teachings of diligence |
| Three | 17.5k | Three slime secretions, two guide to diligence |
| Four | 25k | Four slime secretions, four guide to diligence |
| Five | 30k | Six slime secretions, six guide to diligence |
| Six | 37.5k | Nine slime secretions, nine guide to diligence |
| Seven | 120k | Four slime concentrate, four philosophies of diligence, one Dvalin's claw |
| Eight | 260k | Six slime concentrate, six philosophies of diligence, one Dvalin's claw |
| Nine | 450k | Nine slime concentrate, 12 philosophies of diligence, two Dvalin's claw |
| Ten | 700k | 12 slime concentrate, 16 philosophies of diligence, two Dvalin's claw, one crown of insight |
What are the best Genshin Impact Xiangling team comps?
As long as she has a reliable battery, Xiangling can fit into a huge range of team comps, whether that's mono pyro, National, or overvape. She also fits well into free-to-play team comps as we mentioned earlier.
Here's an example of a strong Xiangling team comp:
That's everything you need to know about Genshin Impact's Xiangling. Why not explore Hoyoverse's newest title with our Honkai Star Rail tier list and Honkai Star Rail codes? We've also got build guides for Honkai Star Rail's March 7th, Honkai Star Rail's Lynx, and Honkai Star Rail's Yukong.