The Hello Kitty Island Adventure luggage locations are frustrating to find without any help, especially when you can see a box but don't know how to reach it. That's why we've scoured the island ourselves to put together this Hello Kitty Island Adventure lost luggage guide to help you reunite these packages with their owners.
Yet to try out the game yourself? Head over to our Hello Kitty Island Adventure review to see what we thought of it. We've also got handy guides for other quests and features of the game, like Hello Kitty Island Adventure gifts and Hello Kitty Island Adventure critter lists.
What is Hello Kitty Island Adventure lost luggage?
Hello Kitty Island Adventure luggage is a series of quest-specific items. When the plane started malfunctioning above the island, Cinnamoroll lost pieces of everybody's luggage and now needs your help to find them. This lost luggage is scattered around the island and looks like a cardboard box with wings and a Cinnamoroll-esque design on it.
The luggage isn't labeled, so you'll have to pay close attention to the symbols in the gift menu to work out whose it is. Good old trial and error works too. Or, keep reading to find out where each character's luggage is.
Hello Kitty Island Adventure luggage locations
Chococat
Chococat's luggage is most likely the first box you'll come across. It's in the Seaside Resort section of the island and you only need to unlock swimming to reach it. Chococat's lost luggage is in a pond just south of his tent. Just equip the flippers and swim into the pond to grab it!
Badtz-Maru
Badtz-Maru's lost luggage is in the north area of the Spooky Swamp. Follow these steps and you'll find it in no time.
Teleport to the Spooky Swamp mailbox

Walk north to the pumpkin patch and continue past the train tracks

Climb the small hill

The lost luggage is on the hill by a big tree
Hello Kitty
Hello Kitty's luggage is under the water in the Rainbow Reef. You'll need to unlock the diving ability before you can find it, so make sure to level up your friendship with Kuromi.
Teleport to Gemstone Town

Head south towards a lone pier

Dive down, staying close to the shore

The lost luggage is on a rocky outcrop next to a seashell
Kuromi
Kuromi's lost luggage is also under the water in Rainbow Reef, further south than Hello Kitty's luggage. You can pick it up at the same time you find Hangyodon in his Comedy Club.
Dive underwater from the beach north of Chococat's tent

Head north until you see the Comedy Club

Kuromi's luggage is on the sea floor amongst the kelp
Hangyodon
Hangyodon's luggage is in Gemstone Town on the edge of a cliff. If you teleport to Gemstone Town and walk south, you'll find it in no time.
My Melody
My Melody's luggage is located on Mount Hothead, just southeast of the teleport mailbox. Exploring Mount Hothead will get you to the luggage easily, so don't stress!
Keroppi
Keroppi's lost luggage is at the top of the Caldera area. This is by far the hardest luggage to reach, requiring precise platforming and increased stamina. You can increase your stamina by crafting Stamina Apples, but they're pretty rare items.
YouTuber amee lily made this super helpful climbing guide to help you reach the top of Caldera without falling off or getting stuck: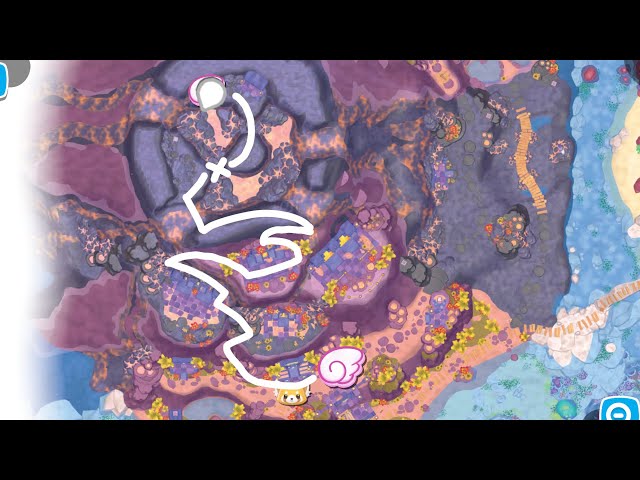 That's everything you need to know to find all the Hello Kitty Island Adventure luggage. If you're looking for more cute games to play, check out our lists of games like Animal Crossing and games like Pokémon.